**Since downsizing to a condo I realized that I need to curb my hoarding tendencies and begin using my stash - Today is day 1. Let Operation DeStash begin! Everything I used for this project was stuff I had on hand and some things I have had for years.**
My husband and I became 'empty-nesters' a couple of months ago and I'm still getting used to not seeing them for weeks at a time. I'm happy that they are happy, independent adults off following their dreams but they will always be my babies.
I was recently going through my stash and found these Altered Metal Frames from Prima and decided that they would make fabulous projects to showcase photos of my kids.
Today's project is all about my son, Daylen, and his genuine smile.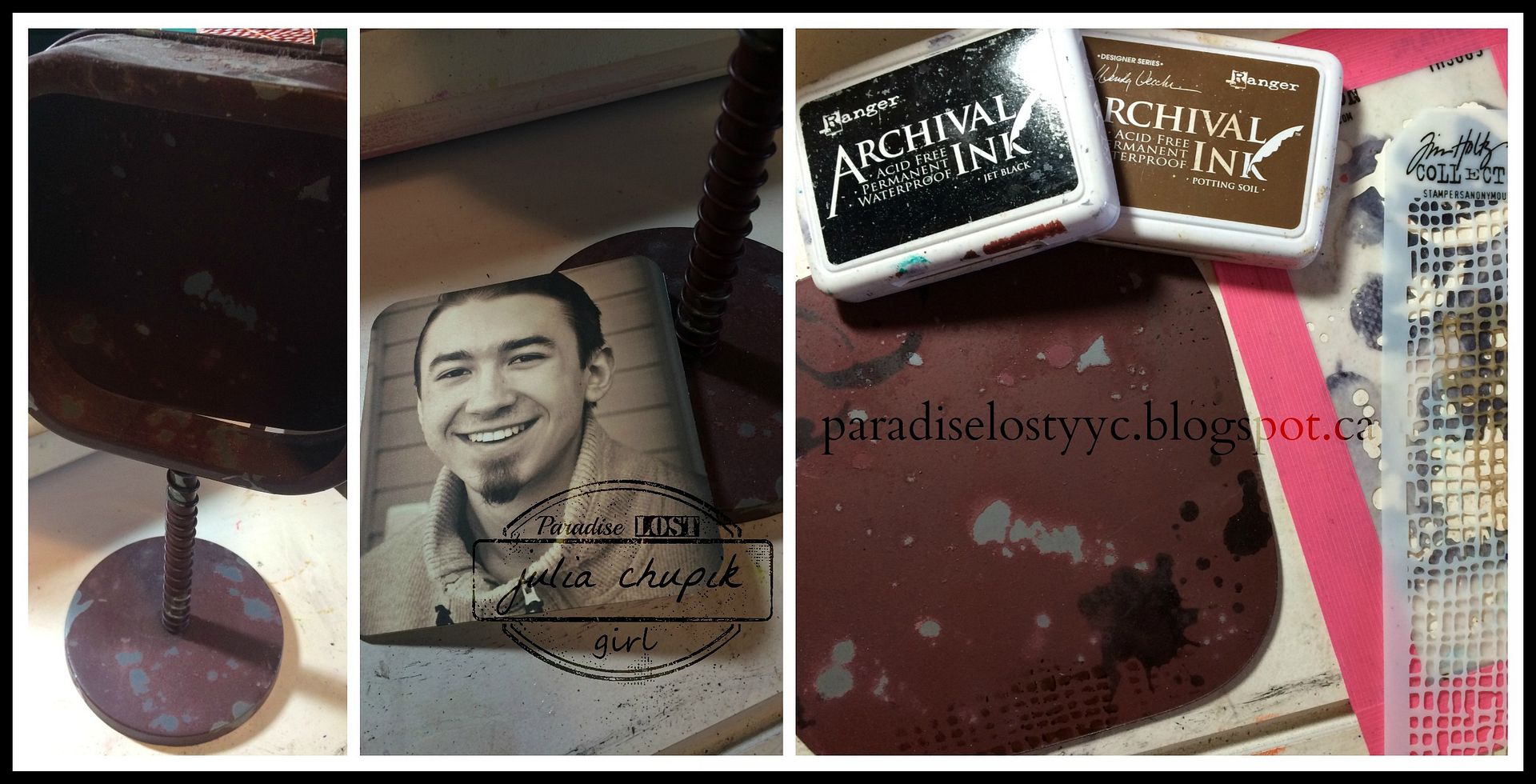 I started out by removing the back of the frames and adding some stenciling with Ranger Archival Ink & Splatters and Burlap Layering stencils from Tim Holtz.
After a layer of Ground Espresso Distress Stain, I applied some Turquoise Embossing Powder from Ranger. After setting this with my heat gun and letting it cool I gently rubbed the embossing powders to reveal the edges. I then glued the bricks down with Tacky Glue making sure to leaves spaces in between.
Bricks need mortar - so I made some using Texture Sand Paste from Deco Art Media and a couple of drops of Ground Espresso Distress Ink. I used a tiny spatula to spread this between the chipboard bricks.I love how this turned out!
I definitely was going for a Steampunk feel to this project and as luck may have it I have A LOT of gears in my stash. Metal gears, wood gears, chipboard gears.....so many gears!
I was absolutely thrilled with the end result - the perfect mix of rust and grunge!
I wish I knew who made this gear set - I checked a few sites but can't find it. Let me know if you recognize it!
The sentiment was embossed foil paper die cut with the word Genuine from the Friend Block Thinlit set and the word 'Smile' from the Friend Script thinlit set. I love this set because it so versatile. I have used it for many different projects & cards.
Assembling this project was a lot of fun. I found so many cool charms, gears & do-dads in my stash that worked so well!
Operation DeStash is well underway.
Thank you so much for visiting my blog today!
Challenges Entered: